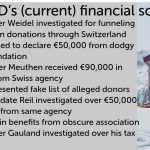 What is the matter with Alternative for Germany's finances?
Just in time for the upcoming European elections, new details on Alternative for Germany's donation scandals emerge. Yes, scandals is in the plural, and the wailing sound in the background is the of "fake news!" from the party's faithful. So what is the matter?
The AfD loves to talk about the "Altparteien" (the old parties, i.e. the establishment, the spent forces etc.). This is in itself a nice show of political mimicry: "Altparteien" is what the Greens used to call the trinity of Social Democrats, Christian Democrats, and Liberals, when they rose as a radical alternative to politics as usual in the 1990s.
In the 1980s and 1990s, the latter two parties executed bypassing rules on party financing to near-perfection. As a reaction to this, rules for transparency have been somewhat tightened, and more importantly, enforcement has become a bit stricter.
Now the "Alternative" has taken a whole bunch of leaves from the old parties' playbook. For your edification and because I'm losing track, here is a list of the top-seven financial scandals in which the party is currently involved.
7 financial scandals in which Alternative for Germany is currently involved
It is not easy running a law & order party. Especially the "law" part seems to be very tricky. Stay tuned.