Fields I am interested in
I am a quantitative Political Scientist. Most of my research falls into one of these categories: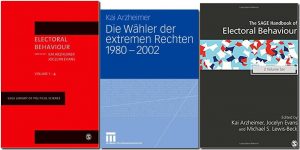 Click here for a full list of my publications. And yes, I have once published a paper on Luhmann and Kant. The journal closed down the following year.
Current research projects with external funding
Research Videos
I have made a number of (fairly short) video clips about my current research.
Playlist: Social Science Research
Research profiles
There is no single "facebook for academics" site yet, so I try to maintain profiles on those that look promising. Please feel free to follow my work on any of these:
Research identity management is now a recognised problem for scholars (at least for folks with surnames more common than my own). There are various schemes supposed to deal with this, so
For communication/networking

Cross-breeding academia.edu and LinkedIn gave us ResearchGate
Methodspace is great, but slightly overwhelming. They read this, and apparently deleted my profile. So what?
I'm KaiArzheimer on academia.edu This profile is tied to my former academic home at Essex, because I cannot figure out how to register a joint affiliation with academia.edu. I have essentially given up on this profile.
And then, for what ever reason, there is Loop

I also had profile pages at various sites such as Mendeley, bibsonomy, and getcited, but those are essentially unmaintained, because I stopped using these services and it became too much of a chore to regularly update my information.
I have finally deleted my profile on LinkedIn. LinkedIn is colder than Mordor, noisy, and of no use to me.