Are you having a good pandemic? Mine is ok. My job is secure, my surroundings are pleasant, and I have so far avoided the plague. Spending a lot of time in the box room in front of my computer is not so different from my normal life. I do not really miss the commute, remote teaching is going better than expected, and online faculty meetings are shorter and more productive than the real thing. When they are not, there is always the second screen or a wonky (cough!) connection.
The spring 2021 (second pandemic) update of the Radical Right Bibliography
But while I'm in a better position than many others, my productivity has taken a hit. At the same time, the number of things that absolutely need doing is up. Which is why there was no winter update of the far right bibliography. Conversely, some of you have been very productive, which is why we are having a bumper spring update of the Eclectic, Erratic Bibliography on the Extreme Right (in (Western) Europe)™. You can download the latest version here in a format that most reference software can import.
If you are aware of any titles that should be in the bibliography, please send me the reference (and the PDF if you have it). And: yes, self-nomination is absolutely fine. And: no, there is not guarantee that I include a reference.
What is new in research on the radical right?
Since April 2020, I have added 78 new titles to the bibliography. This brings the total number of entries to 1032. Most of the new titles are fairly recent and where only published in the last couple of years or so.
| Publication year | n |
| --- | --- |
| 2020 | 45 |
| 2021 | 14 |
| 2019 | 10 |
| 2018 | 3 |
| 2017 | 1 |
| 2015 | 1 |
| 2014 | 1 |
| 2013 | 1 |
| 2009 | 1 |
| 2003 | 1 |
This is in line with a trend in previous editions. Last year, just under 20 per cent of the titles included in the bibliography had been published since 2017. This year, it is 25 per cent of titles that have been published since 2018. The median publication year is now 2013, and the modal publication year is 2018. Like the universe itself, the field is expanding at an accelerating rate.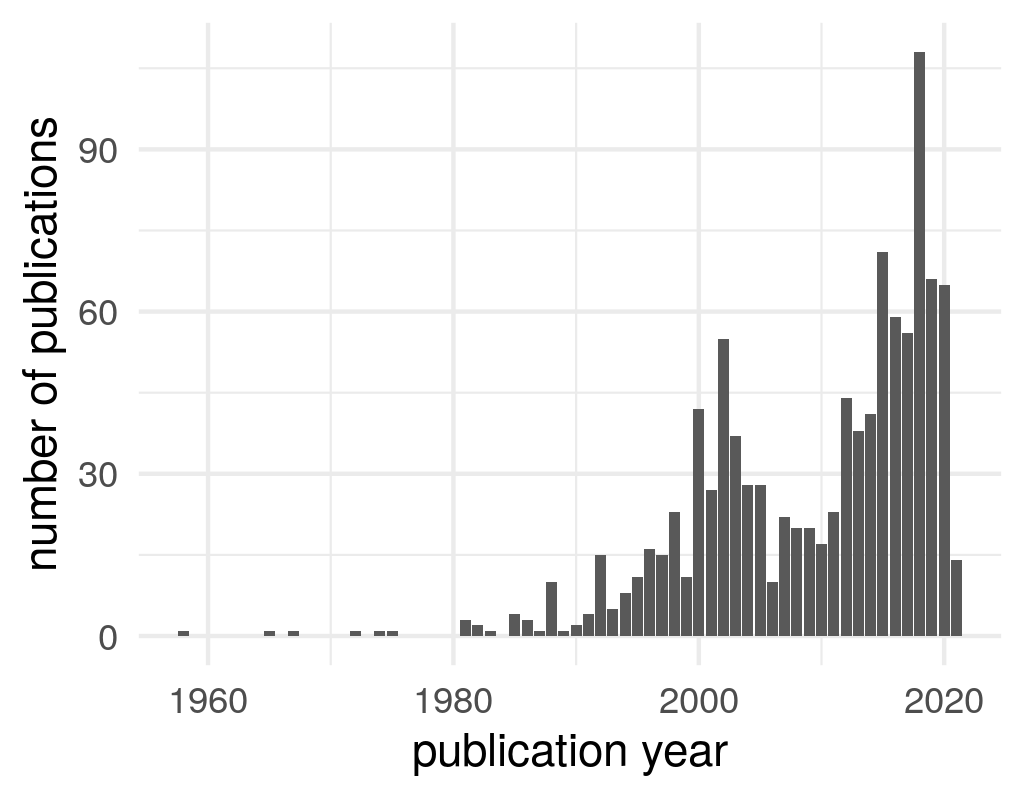 69 of the 78 new entries were published in (peer-reviewed) journals. This further contributes to the bibliography's long-standing bias towards articles, which at least partly reflects the development of the field. In previous analyses, the European Journal of Political Research and West European Politics popped up as the most important journals for research on the Radical Right. In this recent crop, other journals with a European focus as well as more comparative journals dominate. Whether this is a trend or a fluke remains to be seen.
| Journal | n |
| --- | --- |
| Comparative Political Studies | 6 |
| Electoral Studies | 5 |
| European Political Science Review | 3 |
| European Politics and Society | 3 |
| JCMS: Journal of Common Market Studies | 3 |
| Journal of Elections, Public Opinion and Parties | 3 |
| Political Studies | 3 |
| Acta Politica | 2 |
| Comparative European Politics | 2 |
| Europe-Asia Studies | 2 |
| European Societies | 2 |
| Government and Opposition | 2 |
| International Journal of Public Opinion Research | 2 |
| Journal of European Integration | 2 |
| Party Politics | 2 |
| Politics and Governance | 2 |
What are the new topics in radical right research?
Here is a quick visualisation of the words that dominate the titles and abstracts. Because stuff like "right-wing", "radical" or "extreme" is more or less the selection criterion, I removed these terms. I should have applied some stemming (see "party/parties", "voters/voting") but did not, because stems look ugly, and common stemmers still treat "European", "Europe", and "EU" as three different things. Full lemmatisation might be a viable alternative by now, but I was too lazy to look into that.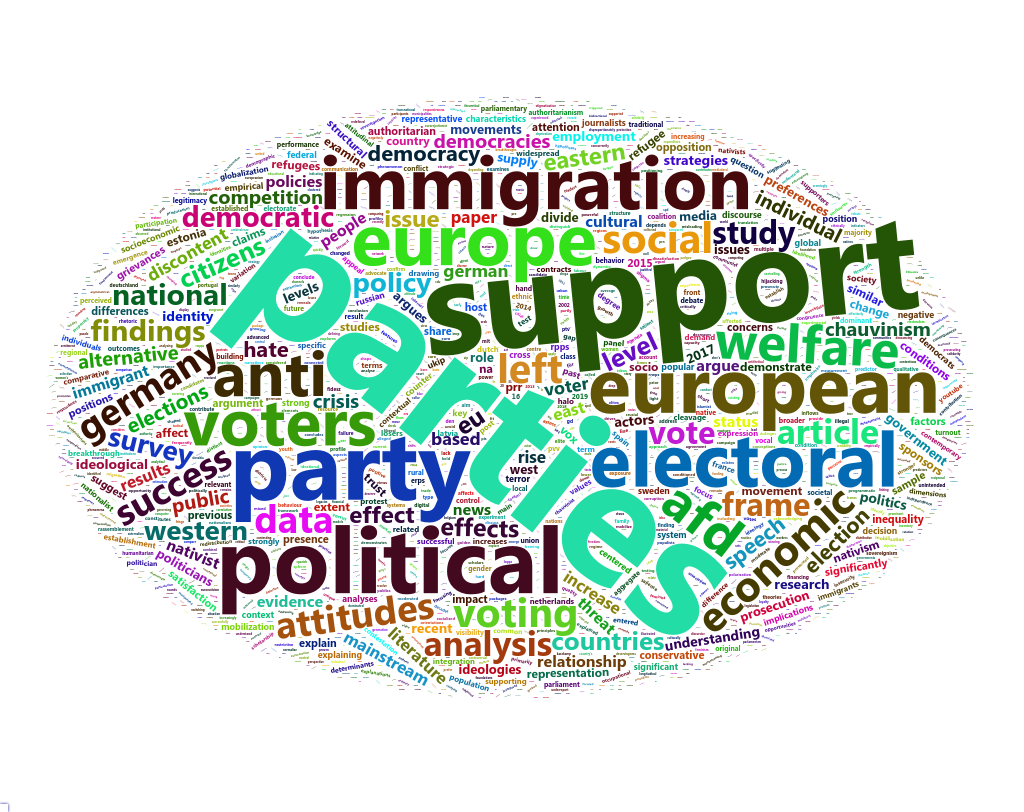 Even so, the focus on parties and voters is pretty obvious. "Immigration" and "Europe" are also hardly surprising. What I did not expect as the large number of items concerned with support, or the number of contributions dealing with Germany and the AfD. Also, "welfare" is quite prominent but did not feature at all last year (when I based the cloud on titles only).
To get a better idea what the different contributions are about, I calculated the (Euclidian) distances between texts based on their vocabulary and ran the result through a classical MDS. In the top right corner, there are outliers: Im 2021 writes about how different types of employment moderate the effect of welfare chauvinism, and Vadlamannati 2020 studies the moderating effect of welfare regimes on the link between refugees flows and radical right support. In other words, the political economy vibe is strong in this corner.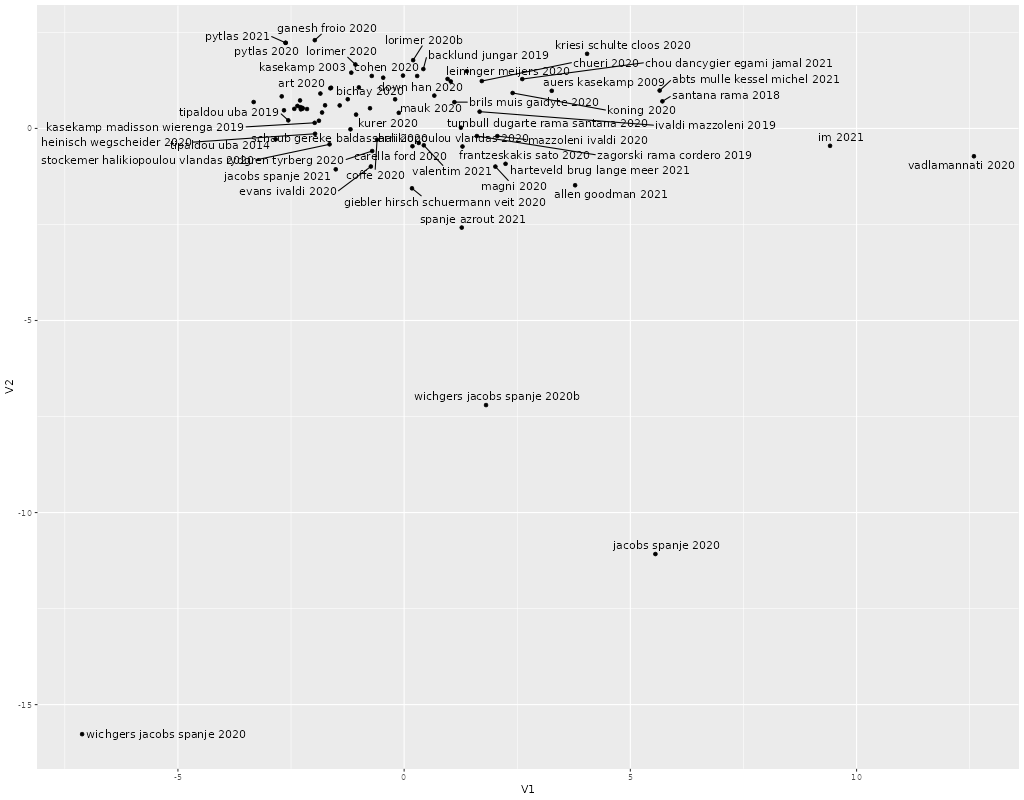 But the true outliers are three collaborations between Lisanne Wichgers (in two cases), Laura Jacobs and Joost van Spanje, which appear all over the place. The first 2020 text is about frame use in politics and journalism in the Netherlands, the second one about the consequences of hate speech prosecution in Holland, whereas the Jacobs/van Spanje collaboration is also concerned with hate speech and electoral results but has a comparative outlook.
Once you (mentally) remove these outliers, some of the groupings in the big cluster also make some sense – see e.g. the relative proximity of Heinze 2020, Weisskircher 2020, and Rauchfleisch Kaiser 2020 who all deal with the far right in Germany. The rest is left as an exercise to the reader.
Gender of radical right researchers
Here is the ever popular cloud of authors' first names. Unlike last year, I refrained from colour-coding them as either pink or navy blue, but it is pretty clear that Andres and Jonas have replaced Christian and David.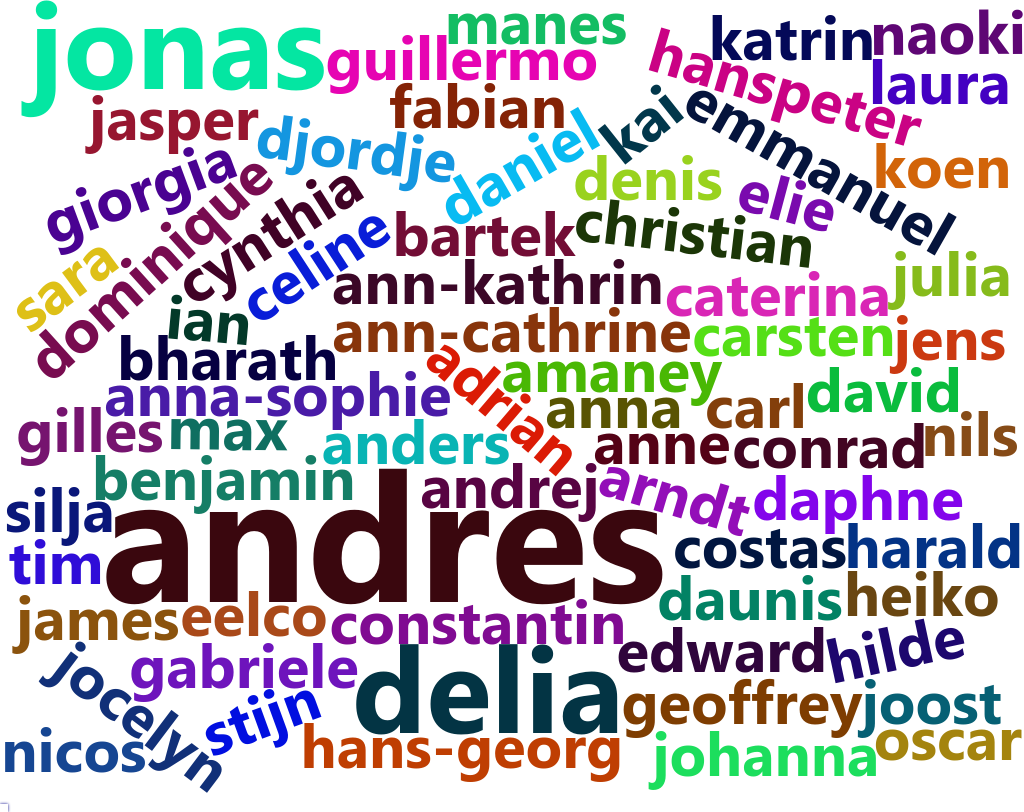 Last year, the female share of unique authors was a meagre 28 per cent. This year, we're up to (…. drum roll ….) 31 per cent. Better than nothing, but still not good. I have also re-run the analysis for the 1990-2021. The figure is weighted by publications in a given year and relies on an algorithmic classification of given names that overestimates the share of women in the database. Here is the updated graph. Progress is glacial, to say the least.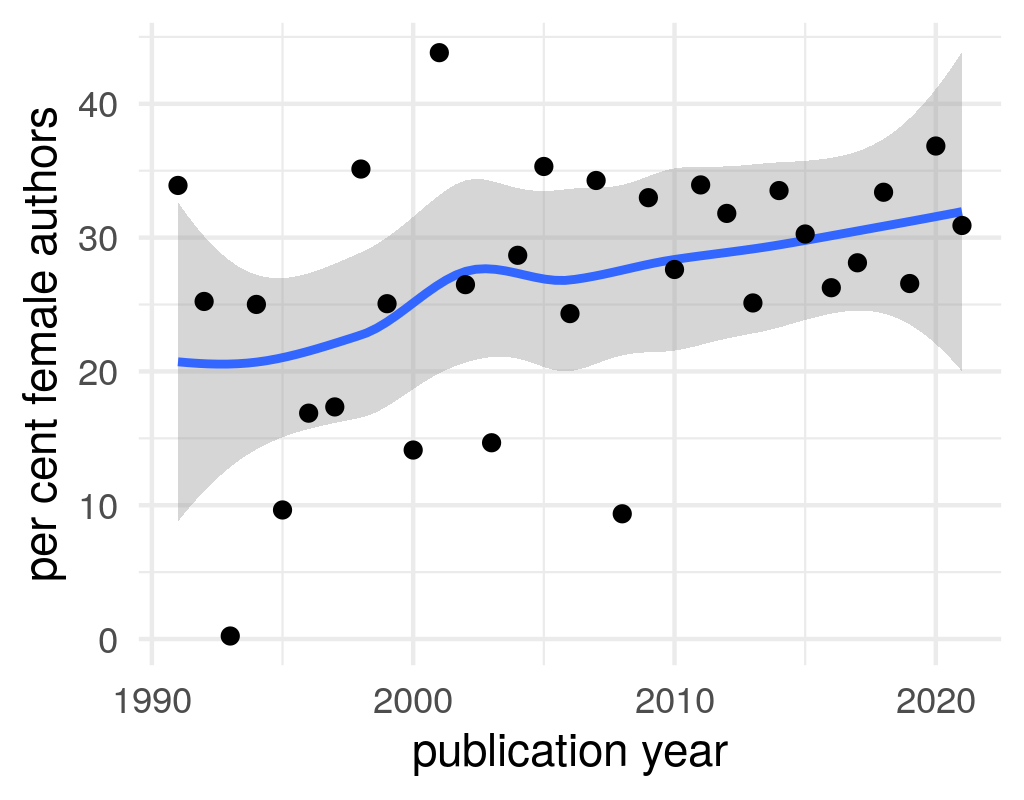 Show us the latest titles in radical right research