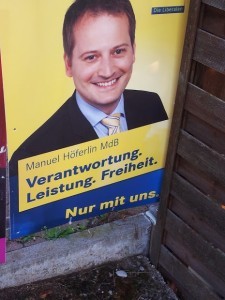 Responsibility. Performance. Freedom. Pointless. Full. Stops.
It is still silly campaign season in Germany, and the new exhibits just keep coming. Here is another one brought to you by the Party Formerly Known As The Guys Who Almost Stood Up Against The Bloody Spelling Reform Back In The 1990s.
Incidentally, the party also upset a lot of German teachers back in 1968 when they began styling their logo as F.D.P. (a violation of clause 102, subsection 2 of the German spelling code). They shed the dots back in 2001, when a youngish Guido Westerwelle took over and transformed the party. So possibly, just possibly, Regained. Full. Stops. Between. Buzzwords. Are. The. Message.