Men are more positive about (some) reproductive science and technology than women
Here is a by-catch finding from my recent article on the micro-foundations of the two-worlds theory of moral policy (full article, ungated). In the article, I look at the effect of a) party identification, b) religiosity, and c) political secularism (a desire for the separation of religion from politics) on the preferred regulation of various moralized policies in Germany. I control for age, education, region (east vs west), and gender.
In the article, I don't talk much about the gender effects, because a) there was a strict word limit and b) they are somewhat tangential to the article's main argument. But I find them intriguing. Here is the main table from the article. Entries are logit coefficients (I know). What do all those numbers mean?
Controlling for everything else (including the slightly gendered differences in religiosity and secularism), male respondents are just a tad less likely than females to support women's access to legal abortions, although the difference is nowhere near statistically significant. Conversely, men are slightly more supportive of research on human embryos for medical purposes, but again, the difference is not significant.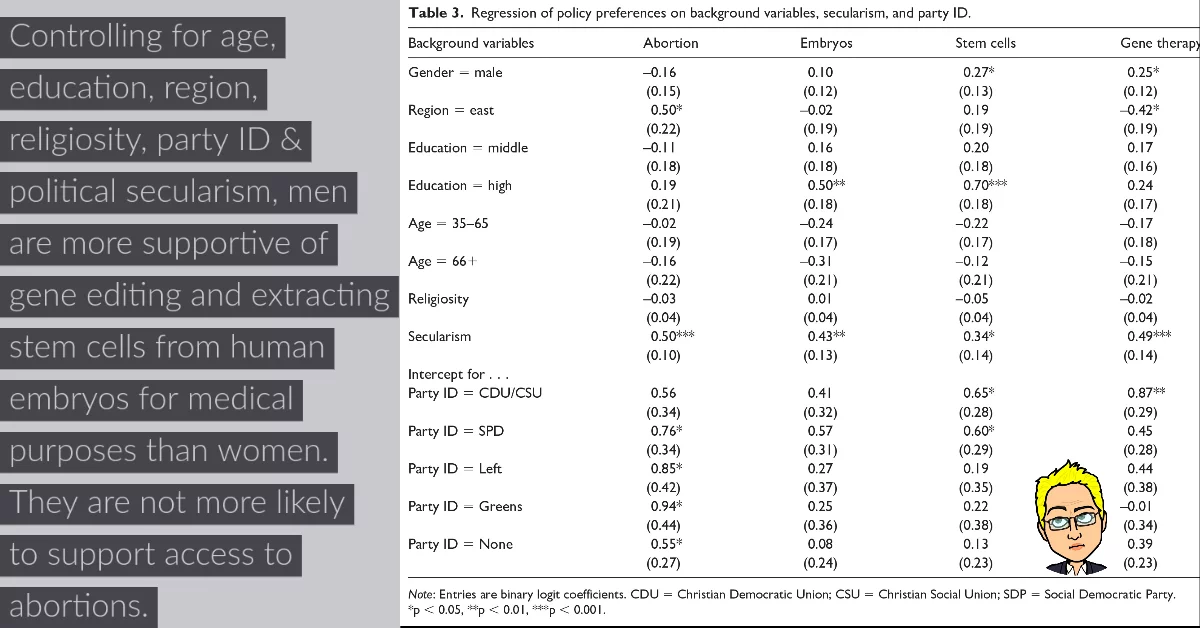 Do you find this kind of research interesting?There is more where that came from.
Bonus track: show us the items
The article in all its glory is open access, so simply click to have a look at the whole thing. I think it's fascinating stuff, but then again, I'm a nerd. The operationalisations are buried in an appendix, so I'm reproducing them here for easy reference.
| | |
| --- | --- |
| Abortion | If a woman wants to have an abortion, this should be legal, no matter what her reasons are: no (0); yes (1) |
| Embryos | Research on human embryos should be banned, even if this means that patients will not benefit from new treatments: disagree strongly, disagree somewhat (1); neither/nor, agree somewhat, fully agree (0) |
| Stem cells | In stem cell research, scientists extract cells from a human embryo less than two weeks after fertilization. These cells are not implanted in a woman's uterus but grown in the lab to treat patients with genetic disorders. Do you fully approve of this, requiring no specific regulation, approve if this is strictly regulated (1); approve only if there are exceptional circumstances, approve under no circumstances (0) |
| Gene therapy | Scientists are working on gene therapies: treatments that work by modifying the human genome. Do you fully approve of this, requiring no specific regulation, approve if this is strictly regulated (1); approve only if there are exceptional circumstances, approve under no circumstances (0) |