The world remembers Helmut Kohl as the (self-styled) Chancellor of Unity. The middle-aged, slightly left-leaning segment of the West German population remembers him as the greying giant that presided for 16 years over a place where nothing would ever change. Even unification, which happened in the middle of his reign, did not really interrupt the humdrum. And of course, we now think of an old man.
Few people outside the political science community are aware of the fact that Kohl began his career as a Young Turk in the state of Rhineland-Palatinate. In the mid-1960s, he became leader of the state's Christian Democratic party, and in 1969, he was elected minister-president, a job he held until 1976, when he moved on to Bonn to become leader of the opposition in the Federal Diet. Under Kohl's government, a new university was founded, the structure of public administration was simplified, and denominational segregation in state schools, then a principle enshrined in the state constitution, ended. Motorways were constructed, factories were built. In short, he was a moderniser by state CDU standards, and a wild one.
Kohl was just 39 when he moved in the state chancellery, and many of his ministers – now also in their late 70s or early 80s – were even younger. It must have been a bit like the Tudor court in the TV drama, minus the women, them being secretaries then, not secretaries of state. Kohl has his roots in the southwestern region of Palatinate (and has been mocked a lot for his accent and tastes), so one of his first deeds was to have a traditional (with a late 60s twist) Palatinate wine tavern constructed in the chancellery, not in the basement but right by the entrance.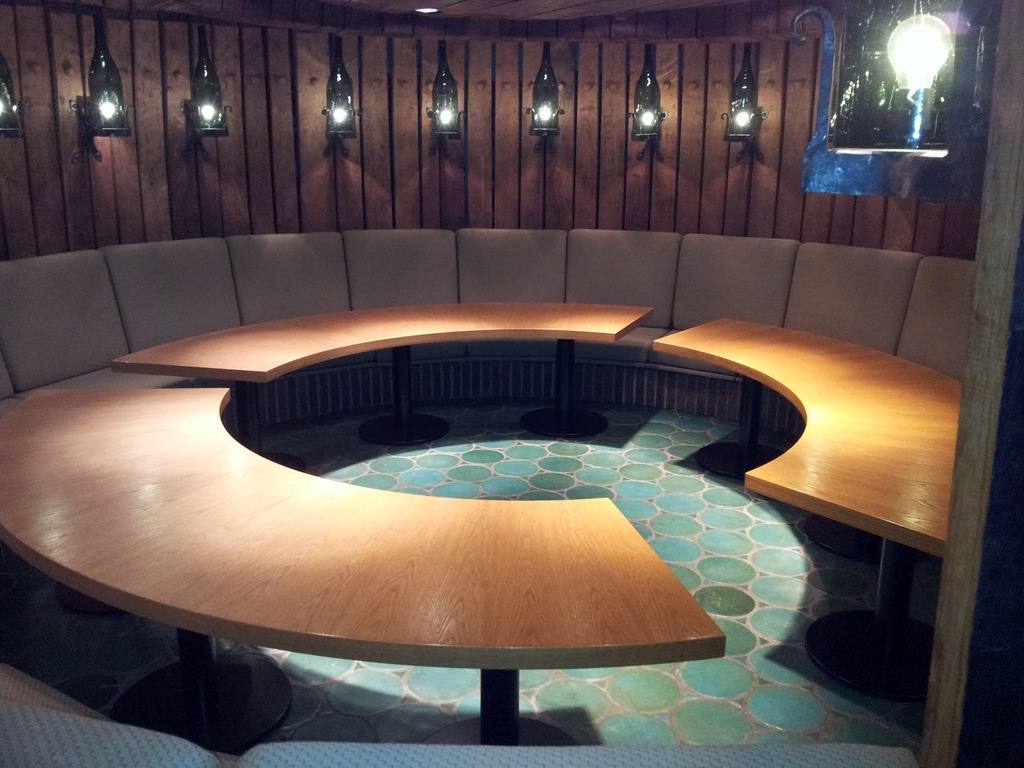 This tavern became a place of legend. This is where Kohl, his friends and enemies would drink themselves into oblivion to seal their deals. This is where cabinet meetings would end and where Kohl would, according to rumours and unauthorised biographies, bully ministers into jumping on the table and "doing the monkey".
Last week, I was in the state chancellery for a chat with some of  the current minister-president's people about the Joint Sessions 2013. At the end of our meeting, the offered to show me the famous tavern, whose interior is basically like it must have been in 1969. Probably, the room is now listed and they could not refurbish it if they wished. But things have changed: The whole place is now a no-smoking zone, the fridge had broken down, and the officials apologised that there was no bottle open to pour us a drink at 11 am.
Most importantly, the splendid Arthurian table, which in the olden days made it next to impossible to leave and  on which ministers were once forced to dance, has been sawn into three pieces. Isn't it a pity? I'm afraid, today's  state politics is to Kohl's reign what working in a 21st century PR company is to Mad Men.