The Extreme Right in Germany never fails to amaze. For those who think that the NPD – currently under threat to be banned because of their family resemblance with the original Hitler party – has gone to soft & mainstream, there is a tiny newish party that has a more … traditional … approach to politics. The party is contesting Exhibit 1 is a screenshot from their web page.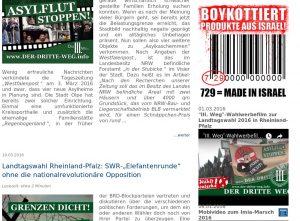 "Stop the flood of asylum seekers" and "close the borders" (on the left) are pretty much mainstream these days. The AfD uses very similar slogans, though with a less Teutonic font (look at those Roman numerals!)
But the barcode on the right instructs the aspiring nationalist how to spot products made in Israel. Right.



Exhibit 2 is even more revealing. It shows a map of refugee shelters in Germany, along with a "German winter relief" poster that could be straight from the 1940s. But my favourite is the picture in the bottom right, which calls for the destruction of Capitalism, which is to be replaced by "German Socialism". This is otherwise known as "National Socialism".
The name of this outfit? "Der Dritte Weg", or The Third Way. Eat your heart out, Anthony Giddens.