It's that time of the year again. Today, I'm releasing a new version of the Eclectic, Erratic Bibliography on the Extreme Right (in (Western) Europe)™. Feel free to download the full-fat latest version here in a format (BibTeX) that most reference software can import. If you are a long-time user of the bibliography, you can also download an incremental update that contains just the latest additions (but see the point about housekeeping below).
Before delving into the updated bibliography, here is my standard reminder: If you know of any works that ought to be included in the bibliography, please send me the relevant reference. If you have publications that should be in the bibliography, send me the reference and the PDF (but please note that inclusion isn't guaranteed).
I'm particularly interested in stuff that I might otherwise overlook. Tenured male professors have a way of making me aware of their work. I'm still interested in their publications, but if you don't tick these boxes, I really need to hear from you.
Some housekeeping: dealing with online first versions
In an online-first world of scholarly publishing, the idea of a journal "issue" has become somewhat obsolete. Yet many journals still cling to the illusion, even producing hard copies for the diehards. Some articles therefore have three versions: a very early one, which the journal publishes after acceptance; a second online version, which is edited and typeset to the journal's standards; and the final version, which is identical to the second but with a different pagination and year of publication.
Two decades ago we invented DOIs to solve this problem: they are handles that a publisher can use to point to the latest version of the same paper. But unfortunately there is no mechanism to actively push version changes for a given DOI sitting in a bibliography.
And so there were a lot of entries (about 60) in the bibliography going back up to five years that had long been assigned to an issue, but still showed up as online first publications. Using the doi-utils package for Emacs, which allows a semi-automatic process (Crossref tends to retain the original publication year), I updated them.
When and where was this new research on the radical right published?
Since April 2022, I have added 108 new titles to the bibliography. This is probably the largest single update ever, bringing the total number of entries to 1216.
More than half of the new titles were published in 2022, and almost 17 per cent were published in the first three months of 2023. This is lower than 2022's record of 25 per cent and more in line with long-term trends.
On the other hand, there are some real oldies, including Westle and Niedermayer's classic on the (German) Republican Party. These have been in another file for a very long time and were not included in previous issues due to an embarrassing clerical error. Better late than never, I suppose.
| Publication year | n |
| --- | --- |
| 2022 | 55 |
| 2023 | 18 |
| 2021 | 17 |
| 2020 | 4 |
| 2019 | 4 |
| 2017 | 4 |
| 2018 | 2 |
| 2016 | 2 |
| 2009 | 1 |
| 1992 | 1 |
Publication year of 108 new additions to the bibliography
As a result of the housekeeping exercise mentioned above, the years of publication have changed from previous editions of the bibliography. However, 2018 (107 titles) remains the record holder for publications on the radical right, followed by (drum roll) 2022 (94 titles). In the 2018-2023 period alone (so far), 326 titles have been published. That is more than a quarter of all the titles in the bibliography. The field is expanding so fast that there should be a noticeable redshift. A decade ago, Cas Mudde argued that as a discipline, we give disproportionate attention to the radical right. He may have been onto something.
| Journal | n |
| --- | --- |
| Party Politics | 8 |
| West European Politics | 7 |
| European Political Science Review | 6 |
| Electoral Studies | 4 |
| Government and Opposition | 4 |
| American Journal of Political Science | 3 |
| Comparative European Politics | 3 |
| European Journal of Political Research | 3 |
| Political Psychology | 3 |
| Religion, State and Society | 3 |
| Scandinavian Political Studies | 3 |
| Acta Politica | 2 |
| American Political Science Review | 2 |
| British Journal of Political Science | 2 |
| Ethnic and Racial Studies | 2 |
| German Politics | 2 |
| German Politics and Society | 2 |
| Journal of Ethnic and Migration Studies | 2 |
| Patterns of Prejudice | 2 |
| Political Geography | 2 |
| Politics and Governance | 2 |
| Research & Politics | 2 |
| Social Science Quarterly | 2 |
Number of articles per journal
100 of the 108 new entries are journal articles. Party Politics and West European Politics return to the top, and except for Religion, State and Society, the other journals in the top 10 (actually 11) are old friends, too. However, European Political Science Review had an unusually good year. One thing I noticed is that with more journals (not included in the table) contributing just one article, this year seems to be a bit more diverse in terms of outlets.
In the long run, West European Politics (68 titles) remains the most important journal, followed by European Journal of Political Research (60) and Party Politics (49). It is perhaps interesting to note that the gap between WEP and EJPR is widening.
What are the new topics in research on the radical right?
For several years now, I have been trying to create some visualisations to get an idea of what new research is all about. Since 2021 I have included abstracts (where available) in this exercise, and since 2022 I have tried to apply full(-ish) lemmatisation to get more meaningful results. But at the end of the day, it is just one of those much maligned word clouds.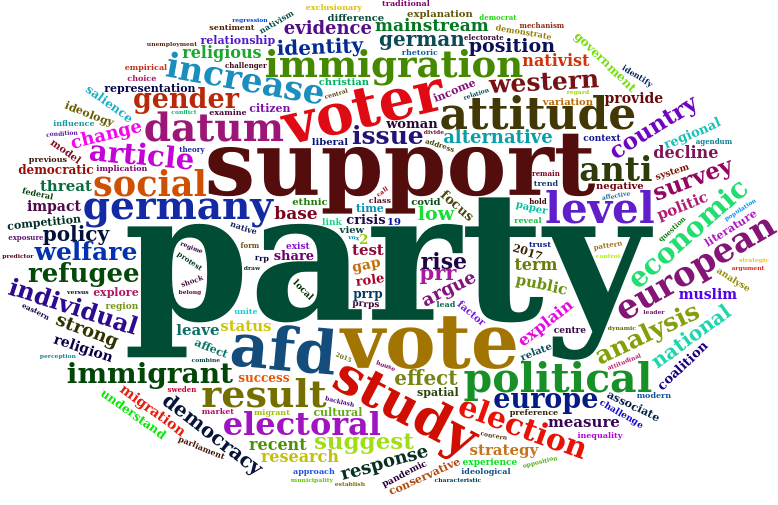 As in previous years, 'party', 'support', 'vote', 'voter', 'attitude' and 'study' stand out, indicating the bibliography's bias towards electoral politics (as opposed to, for example, social movement research). Also prominent are 'AfD', 'alternative' and 'Germany/German'. No big surprise here. "Immigrant/(im)migration", "refugee", "welfare", "social", "economic", "European" are classics. "Leave" (as in "vote leave"), which was quite visible last year, seems to have disappeared. "Covid" and "pandemic" are probably new, but don't really stand out from the usual topics.
I'm sure that there are a lot of interesting trends hidden in (or behind?) this picture. Last year, I've read a lot about the politics of place, place-based attitudes and things like that. But the only trace of that seems to be 'spatial' (can you spot it?).
And no, I have no idea where 'datum' comes from.
Gender of radical right researchers
For the 108 titles, there are 178 unique given author names. Algorithmically inferring gender from names is always hit-and-miss, especially with non-European names. But even European names can be tricky (Andrea!). After dealing with some known troublemakers, including yours truly, and googling some names/people where neither the algorithm nor I were really sure, I ended up with 66 female and 112 male names. Quite a few of the latter appear two or even three times, including our old friend Michael/Michalis. Still, this is slightly less bad than last year (37 female names vs. 94 male names).
It's important to remember that this methodology has serious limitations, not least that it doesn't take into account the number of publications a person is involved in. Nevertheless, let's take a look at the always popular cloud of authors' first names.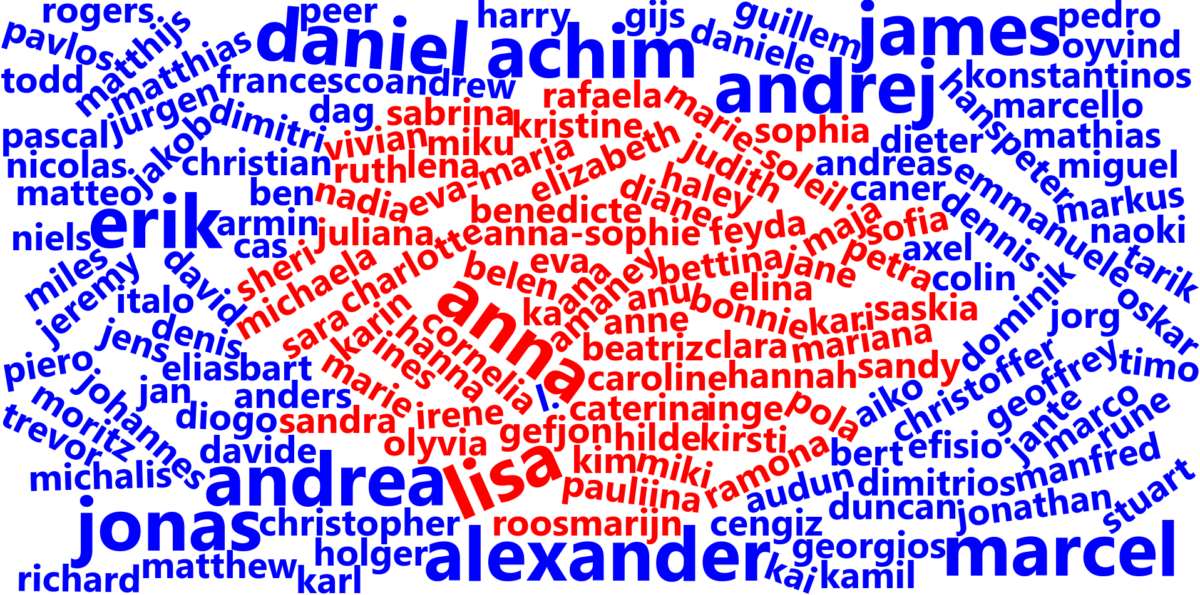 That's why I'd like to encourage women in particular to let me know about their research on right-wing radicalism. I'd love to see more work by women scholars in the bibliography, so please don't hesitate to send me your research. The men always do.
Show us the latest titles in radical right research
Here is a full list of all that is new in the bibliography. Click here to download/import these new titles into your reference management software.