It looks like my career in cardiology is already over, and urology is so last year.
But boys! I'm back in the business of bothering with your bits, buggering your bottoms, and beholding your bollocks. In other words: enough with the 'b', I am an andrologist now.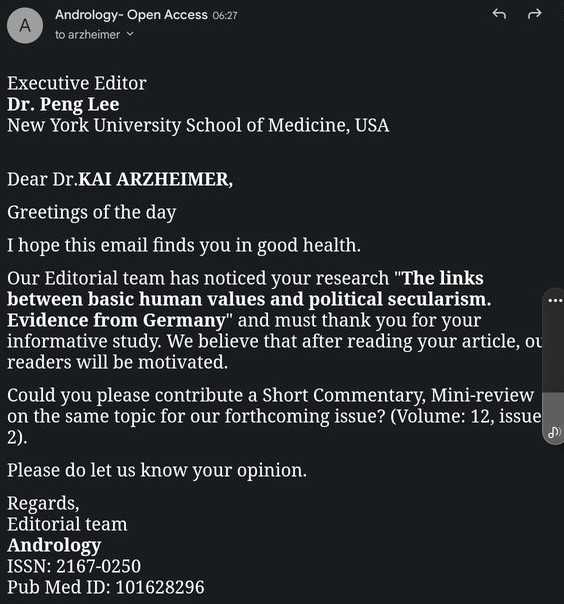 Greetings of the day indeed. Thankfully, I am also in good health. Not sure if the same could be said about my future patients after I'm through with them.
What I particularly like about this email is the thoughtful reference to my recent publication. While I have no idea what contribution secularism and the Schwartz values could possibly make to the field of andrology, the nice editor seems to be sure that they would motivate the readers. That's ok, then.
Somewhat to my surprise, Dr Peng Lee does exist and is what he claims to be: a real professor of urology (and, disconcertingly, pathology) at NYU's medical school, i.e. a top notch institution. He has real publications in real journals.
And yet, he is also the executive editor of Andrology – not the one published by Wiley (ranked 2/8 in the subfield according to Clarivate), but the obscure one that has written 'predatory' all over it. Why would someone in his position do that?
I have no real idea, but I think I will sit this one out. Hopefully, one day I can go back to pay-to-play archaeology.