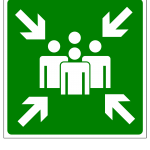 Following the meeting in July that led to a split of the party, the AfD is holding another party conference this weekend.
Frankfurter Allgemeine Zeitung
reports that the assembly has just voted down a position paper on asylum drafted by the national exec and backed by the new leader. Internally, the paper was seen as moderate. In its stead, the conference approved another paper that calls for what would amount to an end of the right to asylum. More internal strife lies ahead.