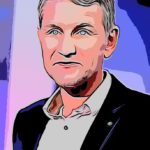 The radical right became a relevant party family in most west European polities in the 1990s and early 2000s, but Germany was a negative outlier up until very recently. Right-wing mobilisation success remained confinded to the local and regional level, as previous far-right parties never managed to escape from the shadow of "Grandpa's Fascism". This only changed with the rise, electoral breakthrough, and transformation of "Alternative for Germany" (AfD), which quickly became the dominant far-right actor.
Germany's "new" eastern states were crucial for the AfD's ascendancy. In the east, the AfD began to experiment with nativist messages as early as 2014. Their electoral breakthroughs in the state elections of this year helped sustain the party through the wilderness year of 2015 and provided personel, ressources, and a template for the AfD's transformation.
Since its inception, support for the AfD in the east has been at least twice as high as in the west. This can be fully explained by substantively higher levels of nativist attitudes in the eastern population. As all alleged causes of this nativism are structural, the eastern states seem set to remain a stronghold for the far right in the medium- to long-term.