Zu meinen Forschungsinteressen gehören auch die Einstellungen zu bioethischen Fragen. Diese gehören in die (sehr viel größeren) Gruppe der Moral-Politiken: Politische Fragen, die mit fundamentalen Konflikten und Werten verbunden sind.
Die parlamentarische Entscheidung zur PID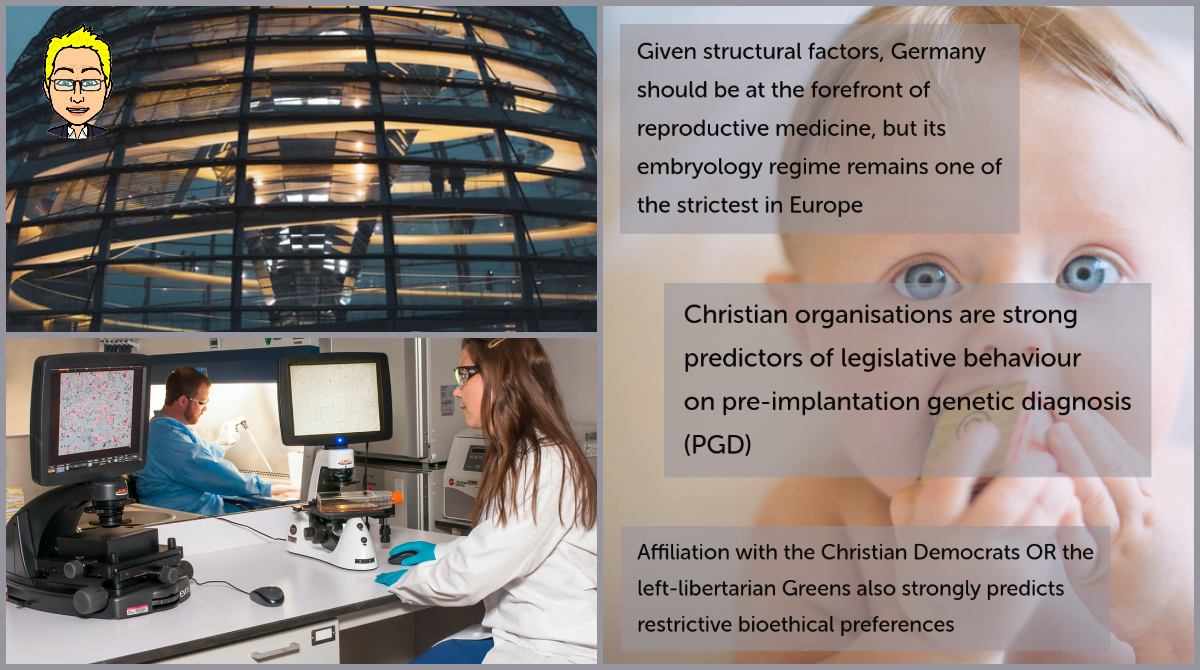 Mein Interesse an diesem Feld geht auf ein Puzzle zurück: nur unter großem juristischen Druck hat der Bundetag das absolute Verbot der Präimplantationsdiagnostik (PID) gelockert. PID ist eine Sammelbezeichnung für Verfahren, mit denen im Rahmen der künstlichen Befruchtung (IVF) gesunde Embryonen für die Einpflanzung ausgewählt werden können. Die neuen Regelungen sind immer noch recht restriktiv und konnten trotzdem nur von einer knappen (parteiübergreifenden) Mehrheit durchgesetzt werden. Im Gegensatz dazu scheinen die neuen Gesetze in der Öffentlichkeit viel Zustimmung zu finden. Eine Analyse der Abgeordneten und ihres Wahlverhaltens zeigt, dass eine erstaunlich große Zahl von ihnen Beziehungen zu religiösen Gruppierungen und Institutionen unterhält. Solche Mitgliedschaften sind ein hervorragender Prädiktor für eine "Nein"-Stimme. Darüber hinaus ist die Parteimitgliedschaft aussagekräftig: Ceteris paribus stimmten Abgeordnete von CDU und Grünen signifikant häufiger gegen die neuen Gesetze. Die vollständigen Ergebnisse sind als open access Artikel in Research & Politics erschienen. . Replikationsdaten sind frei verfügbar.
Citizens's Views on Genetic Testing (PGD)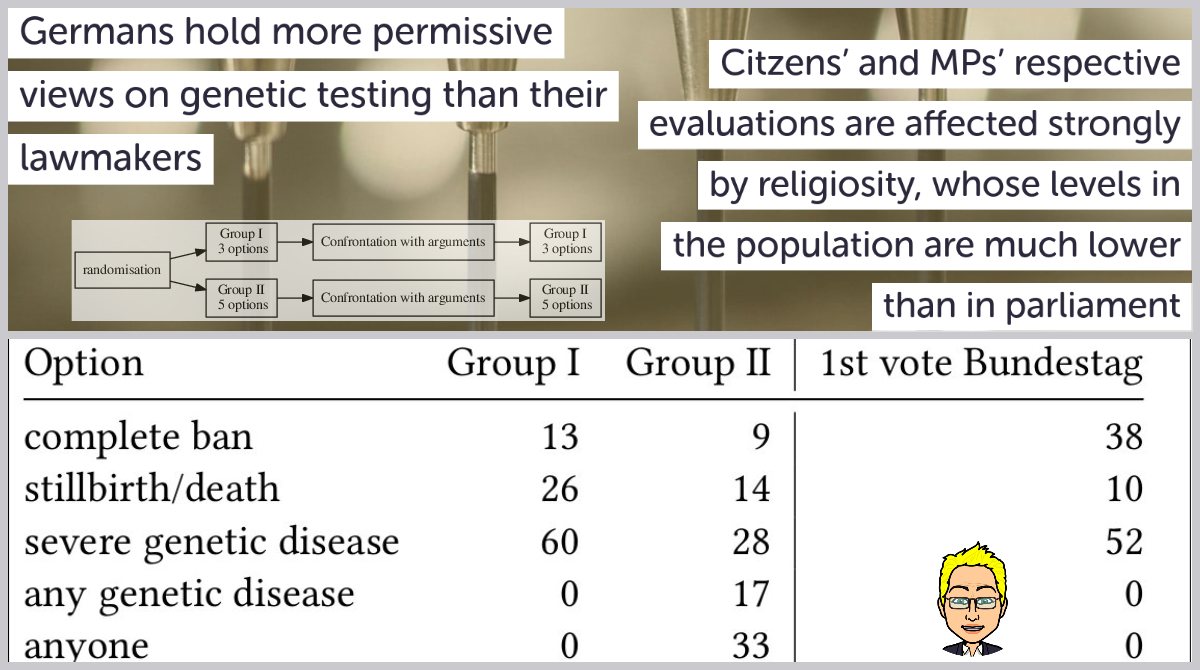 Nach dieser Studie wollte ich mehr darüber wissen, was normale Bürgerinnen und Bürger über bioethische Fragen denken. Deshalb habe ich (mit großzügiger Unterstützung durch die DFG) eine bevölkerungsrepräsentative Umfrage zu diesem Thema durchgeführt. Herzstück der Studie ist ein Umfrageexperiment: rund 1000 Befragte konnten zwischen den drei im Parlament diskutierten Gesetzesentwürfen wählen, etwa 1000 weitere Befragten wurden zusätzliche Optionen angeboten, die in etwa der Situation in Belgien und Großbritannien entsprechen. Im Anschluss wurden die Teilnehmerinnen und Teilnehmer mit 16 Pro- und Contra-Argumenten aus der Bundestagsdebatte konfrontiert und anschließend noch einmal um ihr Votum gebeten.
Secular citizens, pious MPs: Attitudes about genetic testing are more permissive than German laws
Im Ergebnis zeigt sich, dass die Bürgerinnen und Bürger sehr viel liberaler eingestellt sind als die Abgeordneten. Die Konfrontation mit den Argumenten ändert daran nichts. Pro-Argumente wurden weithin akzeptiert, Contra-Argumente mehrheitlich abgelehnt. Ursache dafür ist, dass religiöse Bindungen in der Bevölkerung weit seltener sind als im Parlament. Dafür sind säkulare Orientierungen weitverbreitet. Dies hat Konsequenzen, die weit über das Thema PID hinausgehen. Der Artikel, in dem all dies ausführlich dargestellt wird, erscheint als open access Publikation in Political Research Exchange. Replikationsdaten sind frei verfügbar.
A micro-level test of the two-worlds theory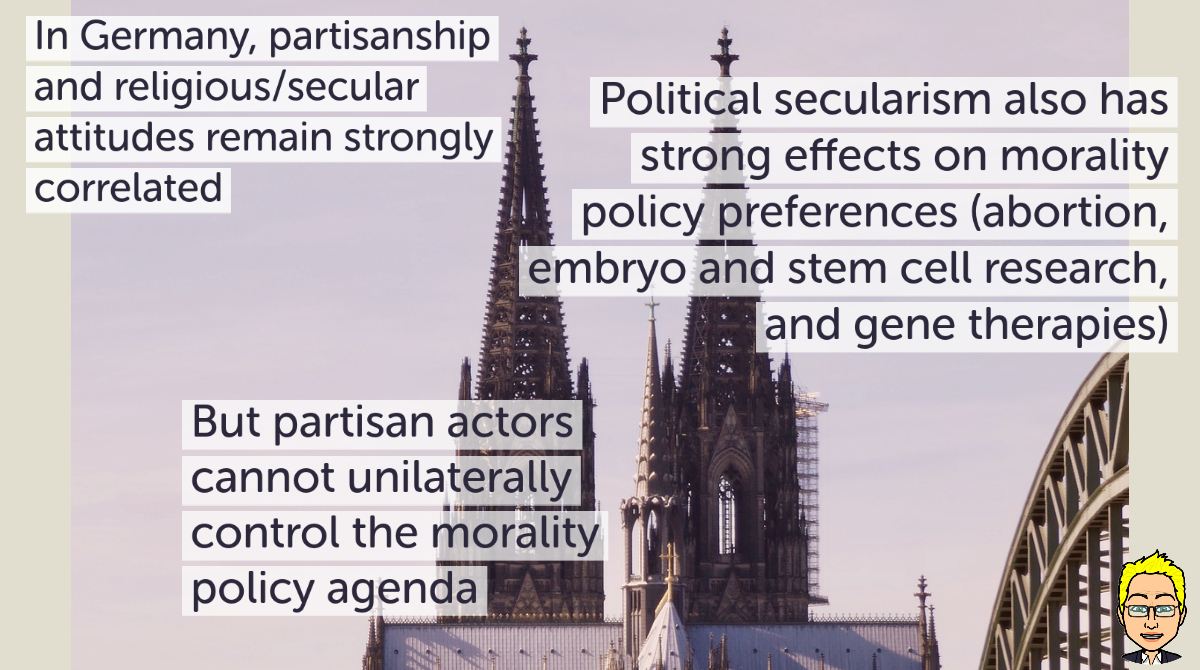 Die "two-worlds"-Theorie von Engeli, Green-Pedersen & Larsen ist der wichtigste komparative Ansatz zur Erklärung von Moral-Politik. Da es sich im Kern um eine Cleavage-Theorie handelt, betrachtet der Ansatz vor allem die Makro- und Meso-Ebene, macht aber (implizite) Annahmen über die Mikro-Ebene. In einem kurzen Artikel formuliere ich diese Annahmen aus und teste sie mithilfe von Strukturgleichungsmodellen. Die Befunde sind mit der "two-worlds"-Theorie kompatibel, werfen aber einige neue Fragen auf. Die vollständigen Ergebnisse erscheinen in Research & Politics. Replikationsdaten sind frei verfügbar.
In diesem Artikel geht es um die Wurzeln des Politischen Säkularismus und insbesondere um die Bedeutung von Grundwerten (basic human values oder Schwartz values). Aufgrund theoretischer Überlegungen sollten vor allem zwei dieser Werte einen Effekt auf Politischen Säkularismus haben: self-drection sollte mit höheren und tradition mit niedrigeren Säkularismus-Werten verbunden sein. Dies lässt sich empirisch bestätigen: Beide Effekte lassen sich selbst dann nachweisen, wenn für Religiosität kontrolliert wird, die ihrerseits einen Einfluss auf Säkularismus hat und mit den Schwartz-Werten korreliert.